So you think we're crazy for taking a journey like this? Maybe you think we're the only ones? WRONG! Since we've been on the road, especially here in South America, we've met loads of other cyclists doing trips like ours. Some are longer, some are shorter… some have more gear, some have less. We've even met a few families as we go along. Each cyclist has a different story, a different style maybe, but the same love for the road and the adventures it holds.
We have been inspired and challenged by so many of these, and we wanted to share them with you.
First of all, there are the families who do trips like this. For those of you who know us well, you know we intentionally planned this "big trip" before kids entered the scene. And while cycle touring is certainly easier without children, we've been reminded and encouraged by these families that it is not only possible with the kiddos, but loads of fun! We look forward to having similar adventures with our own family one day!
The Breen Family
A family we met in Futaleufu (Patagonia) who stayed at our same campground. John and Jenny hail from Minnesota and were touring with their daughters for "summer break." Jenny, a nutritionist, also has a blog about their adventures in food! This family is living in Mendoza, Argentina, for a year and took summer break to do some cycle touring. We loved hearing about their family adventures on the road!
www.dicusbreen.wordpress.com
www.goodlifecooking.com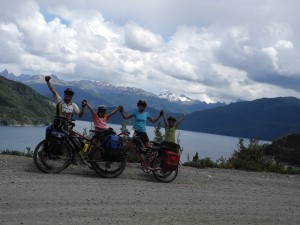 Team Pressl
An Austrian family whose path we crossed on Chilean ripio. Props to them, tackling the ripio with all that gear and their kids! Talk about a lot of stuff!
www.team-pressl.com
There are some who are cycling for a cause:
Cycle for Water
Two Dutch guys (Michiel & Joost) we met in Chile who started in Alaska and have ridden the Pan-American Highway. They are raising awareness about the global water crisis and through their journey have raised enough money for two water projects, one in Guatemala and one in Colombia. Very cool!
www.cycleforwater.com
Cycling the 6
We crossed paths with Dr. Steve Fabes from England when we took a day off in Cafayate, Argentina, for our anniversary. He came and hung out with us at our campsite the next day and helped us finish our anniversary pie. Steve is raising money for medical and humanitarian aid. His route, which covers the length of the six major continents, will take him about five years to complete!
www.cyclingthe6.com
Pedal Powered Family
OK, we actually haven't met this family, but we have enjoyed watching this Canadian crew via their blog and Facebook page. And how brave are they, taking their little ones on such an expedition? We can't even imagine dealing with diapers on the road. Through their journey, they are helping provide bicycles through Worldbike in underdeveloped countries.
www.pedalpoweredfamily.com
And then others whose paths we've crossed:
Jacinthe & Beat
A friendly couple from Quebec whom we met in Uyuni, Bolivia. They are headed north up the Pan-American, all the way to Alaska. It sounded like they have enjoyed the dirt roads of Bolivia about as much as we did!
www.kacane.ca
John & Cathy
This Australian couple (who live in England) are spending months cycling around (mostly up) South America. We met them in Pucon, Chile, while we were out for the evening. They helped influence us toward our northern route through Argentina rather than Chile.
www.crazyguyonabike.com/southamericaminitour
This is only a fraction of the hundreds of web sites and blogs out there about cycle touring. We've met other travelers as well—backpackers, motorcyclists, and some friends in a camper van. We've had fun sharing meals, campsites and stories with these travelers of all varieties. And we love being reminded that we're not alone in this journey!